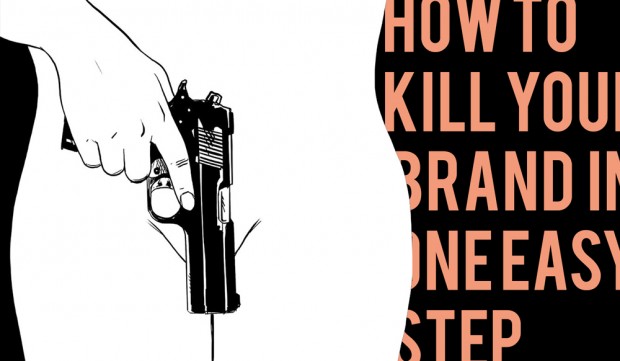 25 March 2015
How to kill your brand in one easy step.
Over the last couple of weeks the House of Dolce&Gabbana turned into a complete media circus. Somehow even Elton John and Madonna got involved and are now asking their fans to #BoycottDolceGabbana.
For those of you who missed out on recent events…It all started out quite innocent with the launch of the #DGFamily social media campaign. On the D&G website people were invited to submit their family portrait and become part of the D&G family. Flicking through all of those lovely family portraits you soon discover a rather disturbing pattern. Only the more 'traditional' family set up seems to have made it onto the site. In the immaculate world of D&G there is no room for gay couples, let alone gay couples with kids.
Click here to visit the #DGFamily project 
The shit really hit the fan when Gabbana referred to people born through IVF as 'synthetic' children in a controversial interview. He made his feelings towards IVF perfectly clear when he went on about 'wombs for rent' and 'sperm chosen from a catalogue'.
Leading gay rights groups called for a boycott as the designers' comments about fertility treatment were labelled "archaic" and "deeply insulting".
Elton John, who has had two children with his husband David Furnish through IVF, said the remarks were "out of step with the times". On Instagram he wrote: "How dare you refer to my beautiful children as 'synthetic'… And shame on you for wagging your judgemental little fingers at IVF, a miracle that has allowed legions of loving people, both straight and gay, to fullfil their dream of having children."
Madonna is also giving D&G a schooling in what family really means. On her Instagram, she shared a photo from her 2010 D&G campaign, in which she portrayed an Italian housewife, posing with a baby. In the caption, she wrote that the soul of any child cannot be synthetic and concluded with some advice: "Think before you speak."
In response to all the commotion around the new campaign Dolce tried to explain he grew up in a traditional family, made up of a mother, a father and children. "This is the reality in which I grew up, but it does not imply that I don't understand different ones. I was talking about my personal view, without judging other people's choices and decisions."
It isn't the first time that in Italy openly excluding same sex couples has caused controversy. The country's leading pasta company, Barilla, faced a boycott in 2013 when its chairman said he would never use a gay family in an advert. Guido Barilla initially said people could pick another pasta brand if they didn't like his views, but issued an apology following the furore.
At DEARDAN&Friends we think it's a good thing to connect with your customers and find creative ways to increase user engagement and endear your brand to aspirational consumers. But always know and more important…never forget who your real customers are.
D&G clearly made a bet on the wrong horse here. It's quite outrageous that two gay fashion designers who have relied on the gay community for much of their success are now opposing gay equality. The damage is done unless D&G wake up and decide to do something really brave. Why not create a campaign around the perfect 'synthetic' family. Move over 'traditional' mom and dad and make room for mama Elton and papa Madonna. Now how's that for advertising?
DEARDAN&Friends
Make it simple but significant.
Thanks to Cavan Sieczkowski (The Huffington Post), Rosie Scammel, Kevin Rawlinson and Josh Halliday.
Recent Posts
Archives
Categories