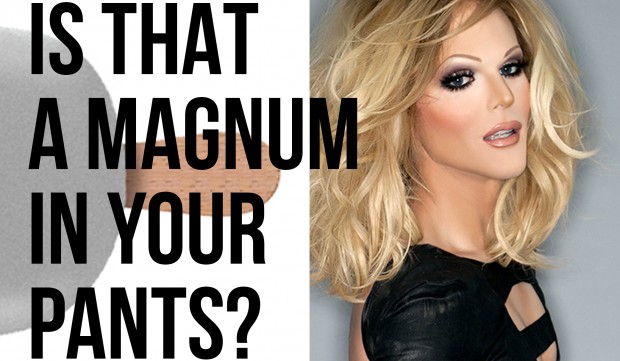 11 June 2015
Is that a Magnum in your pants? Or are you just happy to see me?
With their new campaign 'Be True To Your Pleasure' Magnum celebrates gender diversity and is creating a social platform for gender-non conforming individuals. Magnum believes that everyone should indulge in their personal pleasure. It doesn't matter who you are, or what you take pleasure in. As long as you're holding a Magnum in your hand while doing it.
Magnum wants to inspire all Pleasure Seekers to grab life by the balls and…? Tuck them away! So get ready to say bye bye to Eva Longoria and get your duct tape out.
Willam (infamous L.A. drag queen, hardcore fashionista and heavy user of duct tape) represented Magnum in Cannes this year for the launch of the campaign. "When I was growing up I thought…hmmm…let me get paid in ice cream. So now I do. I get to work with a brand that is pushing the boundaries and is delicious."
Click here to watch the Magnum #TrueToYourPleasure commercial.
Beauty comes in many different forms
The rest of the campaign is carried gracefully by Blake, Gregory and James. Each of them has a unique view on how male and female role patterns determine what's considered acceptable in today's society but what they have in common is that they don't see the world in black and white. They see things on a spectrum. For them beauty comes in many different forms…and in different degrees of male and female.
In their one minute documentary series they talk to us about the empowerment of being honest and being real with who you are. The visuals are very slow and dreamy to create this serene picture that allows us to focus on the message, the persona…and of course the Magnum ice cream that they're casually holding in their hand.
Click here to watch Gregory # TrueToYourPleasure.
Bold choice
We think Magnum made a bold choice with these brand ambassadors. The interviews are very powerful but also uncover a sense of loneliness and melancholy (maybe the consequence of being too different?). That's probably why the soundtrack of the commercial: Umbrella (a Rihanna cover by Mechanical Bride) works really well on an emotional level.
Transparent
Magnum is not the only brand that discovered the magnetism of gender fluidity. Today it feels like there's more room to experiment than ever before. There's less fear of the unknown and more space to celebrate diversity and uniqueness. Last year we saw how bearded nightingale Conchita Wurst won the Eurovision Song Contest (thanks to her controversial Mathu Anderson inspired look).
In fashion MarcoMarco shook us up with his underwear catwalk show. In ten tantalizing minutes he showed us the whole spectrum. He went from ultra feminine to super masculine. Very sexy and for some a little confusing because all the female models were actually men in high heels showing us a lot of booty and sexy female curves.
Click here to watch the MarcoMarco LA SS14 Fashion Runway Show.
And on TV we could watch the hit cult series Transparent. The touching story of an older normative man (played by Jeffrey Tambor) in the transition of accepting himself as the trans woman Maura. All main characters in the series are struggling with identity, sexuality, different aspects of the sex and love spectrum and many more life problems, giving the show a fresh, realistic, comforting breeze.
Click here to watch the trailer of the hit cult series Transparent.
At DEARDAN&Friends we love how this new state of enlightenment creates openness and room for new ideas. It slowly changes the way we see things and helps us to overcome narrow-mindedness. That's why we're cheering for all of you 'gender benders' from the front row. So long and thanks for all the fish.
DEARDAN&Friends
Make it simple but significant.
Photography courtesy of Willam Belli and Magnum, Unilever.
Recent Posts
Archives
Categories