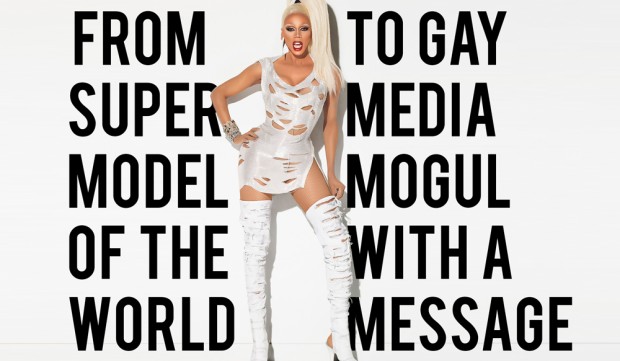 8 March 2015
From supermodel of the world to gay media mogul with a message.
Welcome to the wonderful world of RuPaul Andre Charles (52) a.k.a. self proclaimed supermodel of the world, drag superstar, recording artist, producer and entrepreneur.
The best thing about Ru is that you can call him a he or a she. Ru doesn't mind. "You can call me he. You can call me she. You can call me Regis and Kathie Lee. I don't care. Just as long as you call me!".
Supermodel of the world
Back in the early 90's RuPaul started his career in the Georgia club scene where he took part in controversial 'genderfuck'-style' performances. But Ru wanted more and the Big Apple was calling. In the notable Pyramid Club Ru performed solo and together with the fiercest night creatures of New York.
In 1993 came the big breakthrough with the release of the monsterhit Supermodel (You Better Work). With legs like 'peanut butter' (easy to spread) and a face painted for the gods RuPaul was catapulted into stardom where her 10 inch stiletto heels punctured holes in the sky.
Click here to watch the music video of Supermodel (You Better Work)
Gentlemen start your engine and may the best woman win
In 2008 RuPaul began producing RuPaul's Drag Race, a low-budget, highly addictive talent show that can be best described as a cross(dress)-over between ANTM and Project Runway. In every episode the queens compete in a series of hilarious challenges. They have to convince Ru that they've got the uniqueness, nerve, talent and charisma to snatch the title of America's Next Drag Superstar. At the end of every episode the two queens that didn't live up to the expectations of the judges and Mama Ru have to lip-sync for their life. The winner gets a 'shantay you stay' and for the loser it's time to 'sashay away.'
RuPaul's Drag Race quickly turned into a big international hit. Millions of fans all over the world tuned into the first episode of season 7 that aired last week.
According to RuPaul the show is obviously created for 'those who dance to the beat of a different drummer'. Outside of that it's specifically woman, anywhere from 13 to 49, who love the art of makeup and putting yourself together. But there's more than meets the eye…
Underneath all of the makeup RuPaul found a way to create a show about the perseverance of the human spirit. For everyone that was ever bullied or pigeonholed because of their gender, sexual orientation or the way they want to dress, the show sends out an empowering universal message of self-respect that ties in with RuPaul's personal beliefs. "What other people think of me is not my business. What I do is what I do. How people see me doesn't change what I decide to do. I don't choose projects so people don't see me as one thing or another. I choose projects that excite me. I think the problem is that people refuse to understand what drag is outside of their own belief system."
Click here to watch the trailer of RuPaul's Drag Race Season 7
Social media continues to play a big part in the ongoing succes of Rupaul's Drag Race. Viewers want to watch a great show but they also want to have access to more layers of added value."Call it lifestyle, takeaway or entertainment. It's all of those things and social media facilitates a big chunk of that because people who found their tribe through the show want to connect and stay connected."
After two decades of 'You better work' RuPaul has planted his heels firmly in the entertainment industry. And with the launch of two bestsellers, an outrageous shoe line for queens (size 9 and up), a cosmetics line and unisex perfume RuPaul became his own brand. Even his chocolate, peanut butter & sea salt candybar left us gagging for more.
"If you have goals and stick-with-it-ness to make things happen, people will feel threatened by you, especially if your goals don't include them. They believe that if you take a piece of the pie, that leaves less pie for them. Seeing you follow your dreams maybe leaves them realizing that they're not following theirs. But the truth is, there is unlimited pie for everyone!"
At DEARDAN&Friends we love RuPaul for his versatility and his resistance to let the industry pigeonhole him. Giving in would mean dying a slow death (like when you put a frog in a pan of water and then slowly turn up the heat). In the end all creativity will die. Versatility helps us to keep an open mind and that's what keeps our creative spirit alive. RuPaul found a way to be a successful entrepreneur without selling out on his beliefs. We think this is when the magic happens and maybe, just maybe Mama Ru can pick up where Oprah stopped short.
DEARDAN&Friends
Make it simple but significant.
Thanks to RuPaul and Seth Abramovitch (THR).
Recent Posts
Archives
Categories